"I know what you'll do, you'll love me at once, the way you did once upon a dream"
– Lana Del Rey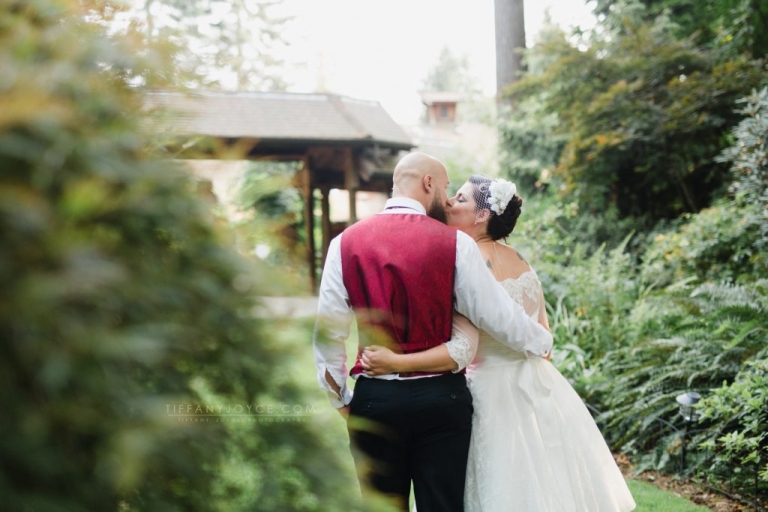 So last week I flew out to beautiful Washington state. I was born there, my mom and grandma (and other family) live there, and it's just one of my favorite places. However this particular trip was to photograph Caitlin & Roman's Kent WA wedding. These two planned probably one of the most unique backyard weddings that I could just tell was 100% them. I love when couples make their wedding exactly what they want. Your wedding day is your day to tell the world your love story in whatever way you choose. So you should make it exactly what you want!
I've been to an Alice in Wonderland themed wedding before. So I was pleasantly surprised when it was not at all what I was expecting. They utilized all of the blacks and reds, queen of hearts kind of vibe. It had an almost retro feel, which I loved. The girls wore black gowns with red fascinators and Caitlin wore a tea length lace gown perfect for her tea party reception. The wedding and ceremony were at a private estate full of gardens and wooded areas. It was honestly like walking around in wonderland.
It was also truly a family affair. The amount of love from friends and family to put their day together was amazing. The groom's mother (with help from his dad too!) made the stunning cake and desserts. They were married by a friend who also married the bride's sister. Friends did the flowers and the hair and makeup. I don't think you could have asked for a sweeter day, and I was so lucky to have been there to capture it for them. And in fitting fashion, Roman and Caitlin jetted off to Disneyworld for their honeymoon. Perfect ending, or I should say beginning 🙂